Velosock Crew
Our motivation stems from our shared passion for transforming the cycling world, and we understand that this is a team effort. We are assembling a community of cyclists who resonate with our mission to elevate the cycling experience while showing respect for our bikes and the environments we ride in.
Together, we ride, we protect, we respect.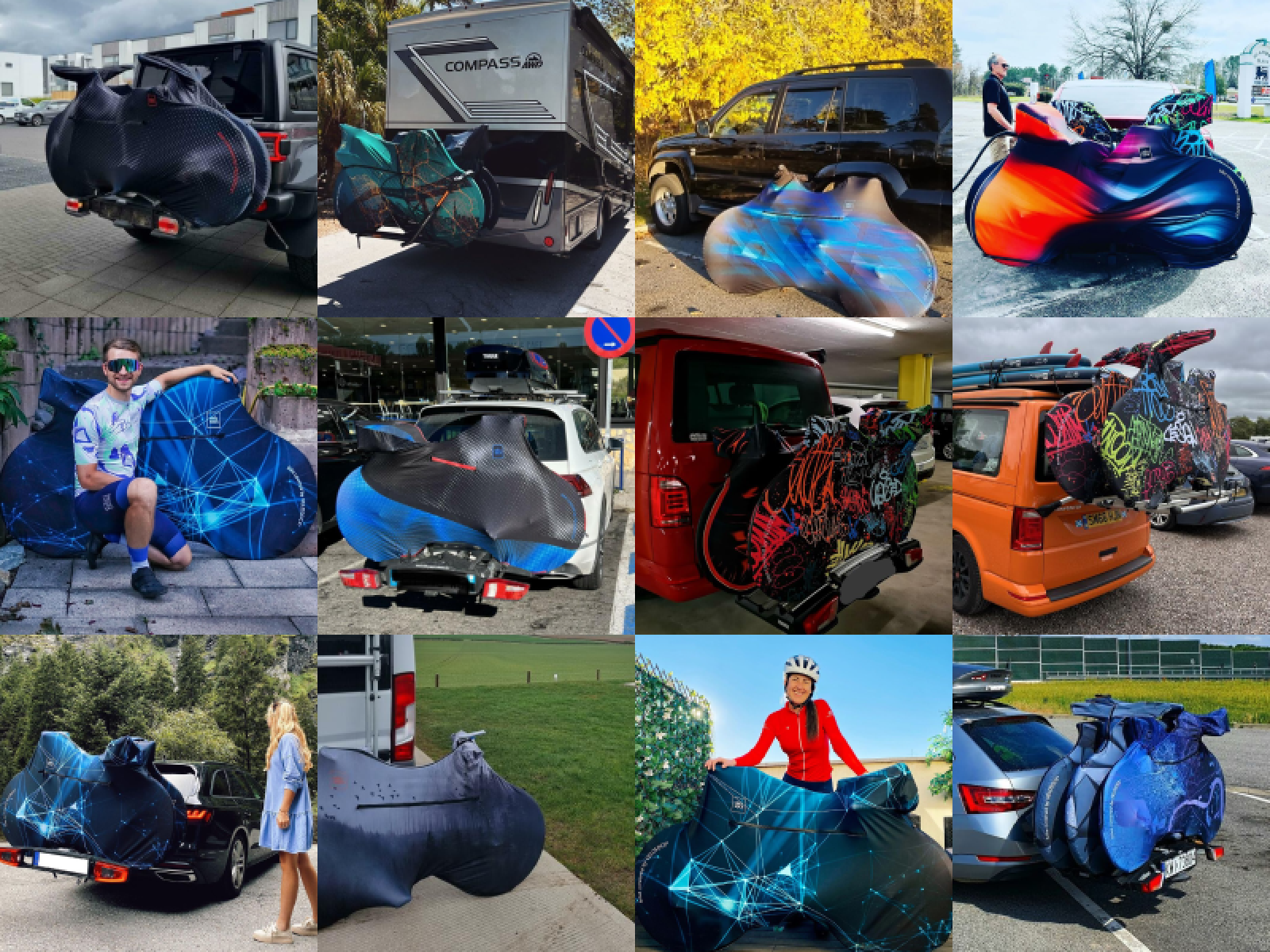 For the VELOSOCK Bike Cover for car racks there are three fabric options – standard, water-repellent and waterproof.  
The standard fabric is the most lightweight of the three and offers enough protection when transporting your bike in mostly dry conditions or for storing indoors. The fabric does have rip-stop qualities and an adequate amount of air permeability which also means that fine dust may still penetrate through the fabric. It is, however, very fast drying, so if you still catch a rain on your way, the cover will dry in no time. 
The water-repellent fabric is much more durable and, as its name already suggests, it is water-repellent which means it's able to resist some penetration of water, but isn't entirely waterproof. Rather than protecting the bike from heavy rain, this fabric's main function is to protect your bike from sand, little stones, road salt, and dirt that sticks to the bike when you transport it on a car rack, however fine dust may still penetrate through the fabric. Besides that, the breathable fabric allows the cover to dry fast in case you've caught the rain and creates less wind resistance during transportation. 
The waterproof fabric is the most durable and dense material (5 mm, able to resist light showers) of the three available options. It will protect your bike from moisture and is equipped with water-repellent zippers. In addition, the extra durable high-quality fabric provides superior abrasion resistance. 
All three fabrics are designed to last with minimal maintenance (machine-washable).
The VELOSOCK Bike Cover for car racks is specifically designed for bike transportation on rear car bike racks, as well as for long-term storage indoors, in a garage or on a closed balcony. 
In comparison to the indoor bike cover, the bike cover for car racks envelopes the entire bike, from tires to handles, that way providing full protection of your bike during transportation and while in storage. 
Besides using VELOSOCK for bike storage and transportation, you can use both types of covers when taking your bike into your hotel room (or other public places). If you and your bike are frequent travellers, you may have already noticed that most hotels don't allow taking the bike into the room, as it can leave stains and scratches. The good news is that hotel staff usually don't mind you taking your bike with you if it's covered and therefore harmless to the interior. 
Just to explain the difference among our Bike Covers for car racks, please get acquainted with these brief characteristics. 
VELOSOCK Bike Covers for car racks are designed to fit specific bike models: 
Road Bikes – specially tailored for cyclocross, track and touring bikes; 
MTBs – made for performance, hybrid and flat-bar bicycles; 
and Triathlon Bikes. 
The main difference between the three is the covers' cut around handles - it's either made to fit drop (Road Bikes), flat (MTBs), or aero (Triathlon Bikes) handlebars. Other than that, Bike Covers for car racks fit bikes with tire width up to 29 inches and with overall length (from outer part of front wheel to outer part of back wheel) up to 1.95 m (for MTBs with tire size of 27-28') or up to 2.05 m (for MTBs with tire size of 29'), up to 1.90 m (for Road Bikes) and up to 2.05 m (for Triathlon Bikes). Please be extra cautious when selecting appropriate size for your MTB as there are two size options available! 
Proper measuring of the full length of your bike: please measure the full circumference of your bike's length at the level of farthest outer points of front and rear wheels (please do not use the manufacturer's measurements as they do not include the width of both tires). 
Once you have found the graphic design you like most, it's time to select appropriate bicycle type and material (standard, water-repellent or waterproof fabric). When selecting waterproof fabric for your Bike Cover for car racks, please note that it is a made-to-order item. 
So, the most important part would be to measure your bike's full length according to the given instruction and determine if it conforms to the measurements provided above. 
Also, please note that if you bike has carriers or mudguards above the rear or front wheel, it may be an obstacle in ensuring perfect fit. 
We kindly ask you to please carefully read our User Manual for Bike Covers for car racks which includes all the important safety aspects to consider: 
https://cdn.shopify.com/s/files/1/0028/2784/5721/files/A5_READ_BEFORE_USE.pdf?154010 
https://cdn.shopify.com/s/files/1/0028/2784/5721/files/PRO_Booklet_outlined_2022_copy.pdf?v=1655383699%20 
Some car bike racks come with a maximum speed warning which shouldn't be exceeded. Aerodynamic drag increases with speed, and exceeding the speed rating could exert too much force onto the bike cover. If possible, use a lower speed limit (-20 km/h) than is allowed for your bike rack (see your bike rack instructions). If your Bike Cover for car racks is made of the waterproof fabric, please note that the maximum authorized speed limit is 90 kph/56 mph and wind speed not exceeding 15 kph/9 mph. The vehicle's speed must always be adjusted to the load being carried and the current driving conditions, such as the road type, road quality, wind conditions, traffic intensity and applicable speed limits. Also, the breathable and water-repellent fabric of our Bike Cover for car racks (except the waterproof fabric) allows it to dry fast in case you've caught the rain and creates less wind resistance during transportation. These are all important aspects to consider when transporting your bike.
Due to aerodynamic reasons, we suggest using the bike cover for car racks with rear car bike racks only. 
Why? 
When transporting a fully covered bike on a rooftop rack, the crosswind may hit the bike stronger than usual, as the cover creates a larger area for wind resistance. Thus, even if your bike is securely fastened - and especially if it isn't - it's important that you always evaluate security and make sure you don't put yourself, your bike and other traffic participants in danger. 
The VELOSOCK Bike Cover for car racks is compatible with the majority of rear car bike racks thanks to the several thoughtfully placed openings on the sides and in the bottom. The openings give access to the bike's frame and tires so that you can secure it to the rack in different ways. Please also make sure that your bike does not exceed the height of your vehicle as parts outside the turbulence zone may create aerodynamic drag. 
Although our Bike Covers for car racks are compatible with most rear car bike racks, we strongly recommend using 3-point fixation rear car bike racks as in the picture

Here are the most popular types of rear car bike racks that work well with VELOSOCK

 
Some rear car bike racks come with rear lights incorporated and you can place the license plate on it as well. The rear lights can also be purchased separately and installed. These are available from different manufacturers and some of the car bike rack producers are also offering additional rear lights for their specific bike rack models. So there actually is a safe solution 😉👌 
We also recommend getting a license plate holder which is provided by major car bike rack manufacturers such as Thule, 1up or others. 
https://www.1up-usa.com/product/license-plate-holder-2/ 
Yes, you can! 
We have already made custom covers for various sports teams, bicycle brands, corporations, and organizations. Personalized bike covers make great gifts, others put them up for sale in their shops or use them as extra ad space during sporting events. 
There are 2 options - You can create your own design by yourself using Online Custom Editor or use our Custom Design Service. 
By choosing Custom Design Service designs can be made for an additional fee. 
Please contact us for more details at business@velosock.com, we'd be happy to help you out with any design ideas! 
Some things you should know about custom designs: 
Custom-designed products must be paid for in advance. 
Once we discuss what you are looking for, a pattern/ design will be made by our designer and we'll email it to you for your approval. Please note, once you have approved the design and work has begun, no changes can be made. 
Custom-made items are non-refundable. 
Putting on the VELOSOCK Bike Cover for car racks is as easy:
Open the zipper that runs along the top of the cover and place the front wheel in the cover. 
Lift the cover up and place the handlebars in the corresponding pockets. Start to close the zipper. 
Place the rear wheel of your bike in the cover. 
Lift the cover up to the seat and close the zipper. 

Putting on VELOSOCK (Picture)